Email Encryption: The Simplest Way to Save Yourself Tons of Hefty Fines and Reputational Damage in the Future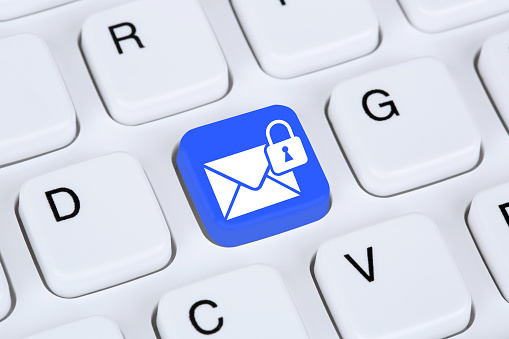 Security is a major buzzword these days, isn't it? You've likely heard all about the importance of strong passwords, anti-virus software, firewalls, and various other security measures that need to be in place. But have you considered email encryption yet? Think about it: email is the primary method of communication amongst your staff members – and if you're not encrypting email, you're leaving all sorts of sensitive information open to unauthorized access.
Large companies aren't the only ones who need email encryption… Small businesses have just as much to lose in the event of data breach.
Did you know small businesses have just as much to lose in the event of data breach? That's right – you're storing sensitive information as well; from financial records to customer information, you need to make sure you're taking the right precautions. Encrypting your email will keep sensitive information out of the hands of hackers.
If you're operating in the healthcare or financial services industry, you've likely already heard and thought about email encryption as regulations require all information to be protected – mandating the use of encryption throughout various areas of your technology environment.
How does email encryption work? The contents of a message will be scrambled, and once received, the intended recipient must use the private key to open the message and make it readable. What are the benefits of encrypting your email? First and foremost, you're able to have peace of mind – but that's just the beginning:
Protect financial information against theft
For most small businesses, email accounts are filled with important financial information: bills, invoices, pay stubs and other details hackers are looking to steal. Email encryption protects your company, as well as your clients, by making the email unreadable to any hackers who are trying to steal that information.
Avoid embarrassment, reputational damage, and loss of trust
There's nothing more embarrassing than having to tell your client you've lost their sensitive information. Email encryption ensures any emails cannot be read by anyone other than the intended participant – helping you avoid the embarrassment, reputational damage, and loss of trust resulting from a breach.
Maintain compliance with industry-specific regulations
Depending on the industry you're operating in, you've likely got some industry-specific regulations you need to adhere to. All regulations require sensitive information stay protected, and in every case, email encryption is able to help you do that – preventing disclosure while keeping you compliant.
Email encryption is not only vital for safeguarding information and remaining compliant, it's also vital in terms of doing the right thing to protect those you serve. Contact MAXTech at (813) 333-2878 or send us an email: info@maxtechpros.com so we can help you get started.