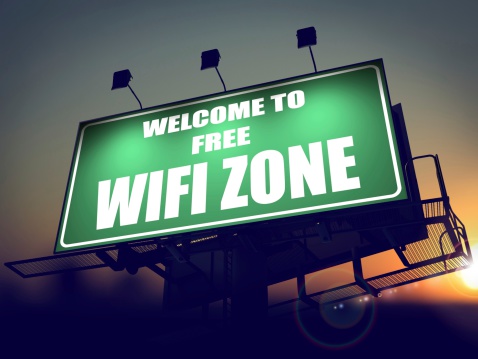 Most of us don't. We're too busy getting all excited when we find some free public WI-FI. After all, that means we get to stop using our expensive cellular data and save some money, and who doesn't want that? But is it really free?
Cybercriminals have several ways to grab hold of the information you are sharing or sending using a WI-FI hotspot. Here is a short list of some of the most popular methods and what you can do to protect yourself.
Do you know what a "honeypot" WIFI network is?
Most free WI-FI comes courtesy of your local hotel, coffee shop, or some other business. Be careful about sniffing around for these free networks, though: some hackers are known to have setup routers and call the network "Free Coffee Shop Wireless" or something like that. If you're sitting in a cafe and you see that wireless network, you might not think twice about logging in. Plenty of people will connect to a free wireless network and go about their business.
That's how they get you.
In fact, some hackers simply just set up a duplicate network and call it the same name as the legitimate network. You could see two "Starbucks WIFI" at your local coffee shop, and never think that's odd.
Once you connect to their hacker's WIFI, they can start probing your device or computer for weaknesses, plant a virus, or spy on your browsing. They can even redirect your browsing so you end up on a malicious website.
So how do you stay safe?
First off, resist the temptation to join anything free. We know, that's hard, but you've got to be careful with these things. If you're in a business where you might expect to be able to access free WI-FI, check with the staff to get the name of the correct network to join. A lot of places have started to password-protect their networks to ensure legitimacy, so they'll be able to tell you how to log in.
We also recommend the use of VPNs to encrypt your Internet connection back to your office, making sure all traffic is safe.
Never forget that cybercriminals can hit you at home as well if you are using an unsecured WI-FI network. Make sure you lock down your home wireless network as well.
Have you heard of packet sniffing?
Packet sniffing has been around for a very long time. You don't even need to connect to the hacker network for packet sniffing to work. You can connect to the free legitimate network offered at the hotel or coffee shop.
Information sent on the Internet is sent in small packets of data. Packet sniffing means that a hacker is intercepting these packets and checking them out to see what you are doing. This includes usernames and passwords.
A hacker can also read your messages, social media posts, text messages, and other clear text information. Trust us, it doesn't take long to re-assemble all the packets using special software.
What can you do? Make sure you are connecting to an encrypted connection or use a VPN application. If you need to get online, avoid the use of banking sites and other websites that you need to put in personal information. If you need to do any banking, use the banking app on your smartphone.
What are you sharing online?
Is your computer, laptop, or mobile device set to share folders and files? Most systems today are set to share with anyone, and this includes hackers. Microsoft has made sharing easy, and the steps to share information are simple to follow. If you must share information from your device (and really, think twice before deciding to do so), make sure you follow the prompts to lock down your sharing.
Using Windows? When you connect for the first time on a network, Windows will ask what type of connection is this. Make sure you set it to public. This will automatically modify your sharing settings to lock down access to your device.
If you are using a Mac, go to your system preferences and then click on sharing. Make sure all the sharing boxes are not checked.
The entire team at MAXTech wants you to be safe. There are many other ways a hacker can access information when using free public WI-FI. Make sure you protect yourself at all times. Remember: If it seems too good to be true, then it probably is.
Have questions about securing your wireless network? Are you running a coffee shop, hotel, or any other business and want to offer free WIFI access to your customers? Call us first. We can make sure you offer secured wireless networks to your customers.
Call (813) 333-2878 or email us at info@maxtechpros.com to book your no-cost review and consultation on wireless networking technologies.