In an ever-changing world of technology, businesses need to continually evolve to keep up with security measures and remain successful. Information security is what keeps your business up and running; it offers a protective mold that prevents your business from crashing down. And it all starts with getting your employees on board.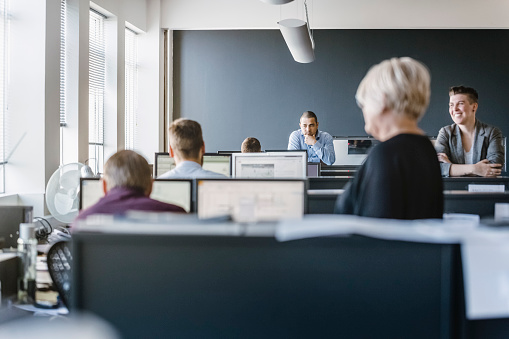 A successful business owner knows the importance of security; and just how devastating it could be if ignored. This is where involving your employees plays an important role; you need each and every person involved and up-to-date when it comes to keeping crucial data safe and secured.
Here's how you start:
Hire recruiting experts with the right type of knowledge and experience against IT security and employee issues.
Clearly communicate to each employee proper policies, guidelines, standards and metrics.
Ensure they are well informed of confidentiality agreements, integrity, availabilities to them and privacy.
Always review and update all policies annually, or as necessary.
Properly train employees within servers, networks and workstations.
Circulate bulletins and IT security policy reminders.
We provide your business with multiple layers of security protection for physical and data assets. Sometimes it's difficult to follow security procedures without proper knowledge of what to do and how to do it; we create guidelines and suggestions while working with you to mold a security infrastructure specific to your company's needs and requests.
Our security policies and guidelines notify your employees of a secure network perimeter and how to stay within it, this includes:
Confidentiality agreements,
Access privileges,
User IDs,
Password protection,
Workstations,
BYOD (Bring Your Own Device),
Personal use, and
Internet access.
Once an employee has reached the end of their term, it is important to immediately relinquish access to prevent security breaches and leaks. Personal devices containing company data need to always be safeguarded with email encryption and secured with data wipe in cases of criminal damage, espionage and theft. We use risk assessment and risk mitigation to reflect the prime objectives for security.
Top management involvement is crucial in maintaining a secure work force; when they say it takes a village, they're not wrong. You need every crucial component of your business to be on the same page; starting with security. What good is hard earned work if it becomes exposed and infiltrated?
Safeguard your network perimeter and secure your company's success. Contact MAXTech at (813) 333-2878 or send us an email info@maxtechpros.com to keep your business evolving as technology changes.