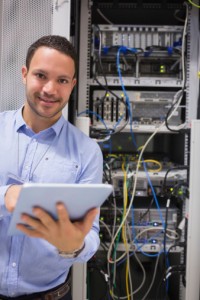 Regardless of the size of your business or the industry you're in, IT support costs money. What's important is how your business utilizes your IT – with the right understanding and a strategic approach, technology should be an investment that helps you reach new goals and maintain success.
When hiring an IT partner, it's crucial that you have an understanding of two things: your unique business needs and your financial position and requirements. The job of a great IT provider is to align their services with your needs, to maximize your investment and offer solutions that empower your workforce and remove any limitations on your success.
Cost Vs. Benefit
Whether you're currently relying on in-house IT or an outsourced provider, it's important to continuously weigh the cost vs. benefit. Consider these:
Are you getting the best possible return on your investment?
Do you have peace of mind knowing that your technology is truly supporting your goals and keeping your workforce productive?
Are you paying for services that you don't really need?
The Right Move for Your Business
On average, the cost of one in-house technician can run a small business more than hiring an entire outsourced team over a year. There are several variables to be accounted for, and you need to consider that upgrades, repairs, new hardware, and several other essential IT updates come out of your pocket when you're working with an in-house team.
Whether you need to strengthen your security, communication, time management, or anything else – outsourced IT services make it easier to plan for your requirements.
You gain services that are strategically aligned with your needs, which means you pay for only the services that your team will really rely on for success.
Outsourced services make it easier to get IT that's designed to meet your budget and unique industry requirements, including compliance.
Get your business the best competitive advantage possible with IT services designed to maximize your budget help you thrive. Contact MAXTech to learn about our wide range of services and support and discuss how your business will benefit – get in touch with us at info@maxtechpros.com or (813) 333-2878.