To celebrate Accounting Day, here is a look at how moving to cloud-based computing could benefit your firm.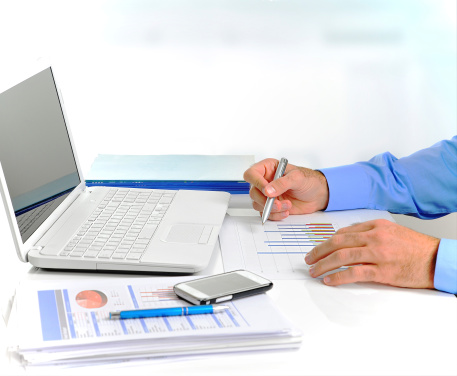 There is a good reason why cloud computing is on the rise. Firms moving to the cloud can realize significant savings on hardware acquisition and maintenance; economies of scale are enhanced as it costs less to add users than traditional IT infrastructure; and it is much easier to share data and enable remote access so users can work from anywhere.
But what does the "cloud" really mean?
To put it as straight-forward as possible, the cloud refers to services and software that you access via the internet instead of locally on your computer or your firm's office server. Netflix, Yahoo Mail, and Dropbox are all examples of cloud services you likely already use, but there are also many advantages business can gain by ditching that collection of old servers in the closet of your office and making the move to the cloud.
To help you understand these benefits, here is a look at some critical areas in which cloud-computing could help your accounting firm.
Data Security
By the nature of your work, you have access to highly-sensitive data and you have a legal and ethical obligation to protect that data. It is understandable that you may have trepidation about moving your data from a physical server on your site, to some location "in the sky".
Therefore, you should work with an IT vendor that is partnered with a data center that has undergone a formal security audit. Formerly known as a SAS 70 report, an AICPA Service Organization Controls Report ensures that the data center storing your data has been vetted and approved by the American Institute of Certified Public Accountants.
Email
Given the volume of emails and the need to store email trails required of all accounting firms, a cloud based email system can be a tremendous advantage over an in-house system. Microsoft Hosted Exchange and Google Apps Premium Edition are the two best-known examples of cloud-based email systems that provide excellent security and full back-up capabilities at a significant savings over a typical in-house system.
File Storage
Because all your files are stored online, it is not necessary to obtain expensive data servers on site. Nor is it necessary to purchase software to supplement the servers or employ extra IT staff to maintain everything.
Backing Up Your Data and Disaster Recovery
For accounting firms that keep data onsite, the cost and effort of backing up all that data can be overwhelming. Typically, backup is done via tape and requires either dedicated resources within the firm, or the services of an outside agency to ensure the proper schedule is followed. Data retrieval can also be time-consuming and requires expertise to manage.
Cloud computing vendors externally manage the backup process and provide compete data security through a "self-healing" infrastructure. This consists of a system whereby redundant backup centers are employed so that if for any reason the primary center is not available, the backup becomes the primary data source. This ensures data is secure and always protected.
Attempting to replicate this process through an off-site data center connected to your onsite servers is very costly.
Remote Access and Sharing of Data
The ability to access data from any location and to easily share data across geographical locations is a primary benefit of adopting cloud solutions. Because your data files are not stored in a single, physical location, your information can be accessed anywhere you have an internet connection. This also makes it much more efficient to share files between offices.
Have questions about how the right IT can help your Accounting firm? Call (813) 333-2878 or drop us an email at info@maxtechpros.com. Call today.