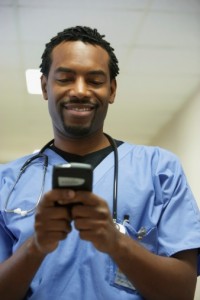 Communications in the medical profession are becoming increasingly mobile as technology improves. This allows practitioners and nurses to provide more efficient patient care, and statistics show over three-quarters of those in the field are already using technology to do just that.
However convenient mobile devices may be in this industry, mobile devices need to be carefully managed to avoid creating a HIPAA security risk. Listed below are some helpful tips to take into consideration to ensure you are always remaining HIPAA compliant while using mobile devices:
Use Encryption to Make Messages Unreadable
It is critical to use encryption to make mobile devices more secure. This will require more than a simple password. Encryption for email programs is needed to ensure a message cannot be read until after it has been transmitted to the provider's device.
Include Informal Messages into Medical Records
All communication between patient and provider should be recorded into the patient's medical record in the interest of accuracy. Text messages and other informal methods of communication should be entered in order to assure records are complete.
Obtain Permission Before Communicating Via Mobile Device
Make all patients aware, and get their consent before communicating using mobile devices. This is especially important if there is a chance the information being shared is unsecure.
Avoid Non-Medical Shorthand and Abbreviations
Often times, communication from mobile devices is full of shorthand, abbreviations, and spelling and grammar errors. Avoid this as it can result in seeming unprofessional, and even create malpractice liability in worst case scenarios.
Discover the top tips to reduce HIPAA security risks on mobile devices. Contact MAXTech at (813) 333-2878 or email us at info@maxtechpros.com to find out about our managed IT services for healthcare organizations.